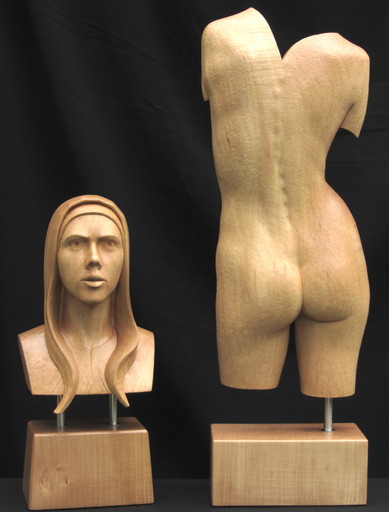 Leo Pruijt - Fine Art in Wood
Sculpting in wood combines two of my passions. First, creating itself; transforming ideas and inspiration into realistic sculptures. Second, working in wood, with its endless variation in character, structure and colour; wood gives an extra dimension to an object.
In 1981, at the age of 20, I bought my first 'serious' carving tools and from the very moment I started carving, I was hooked! Sculpting and carving became a big part of my life.

Although I love wood, it is not the wood that inspires me to start a carving. On the contrary, I select a piece of wood based on my design. Designing on paper, in clay or on the computer is an essential step in my work process. It takes a lot of inspiration and perspiration to transform an idea into a design and into a final shape. Woodcarving takes a lot of time and hard working, but the activity itself is rewarding and the result cannot be achieved in any other material.

To me, the human figure has always been a source of inspiration and gradually I have specialised myself in human torsos and portraits.